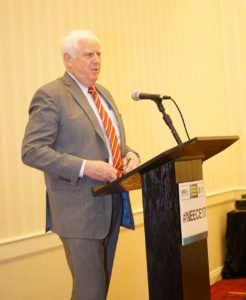 Arthur House, Chief Cybersecurity Risk Officer for the State of Connecticut, said cyber threats are evolving all the time and the range of exposure is increasing in an increasingly digital world. The "internet of things" is expanding our vulnerability from about six billion points of entry today to more than 22 billion in 2021. We need an internet of "safe" things, he said. Companies that sell internet-connected devices should build cyber defenses into products at the design stage and not rely on patches after intrusions have occurred. The internet was built for sharing information among trusting people, he said, and that assumption does not hold up today.
There is no one solution for cybersecurity, he said. We need a resolution to prepare for
tomorrow
. He warned that the federal government is not going to solve this and it's not enough for a company to have a good chief information officer. We need leadership from the top of an organization, they need to own these challenges and we need effective partnerships with governments, utilities and the private sector.
Asked about ways to safeguard personal cyber information, House said to create complex passwords, change them constantly, and be suspicious of every email.
House urged conference goers to be watching for a new cyber strategy that Connecticut is preparing to launch in the coming weeks.