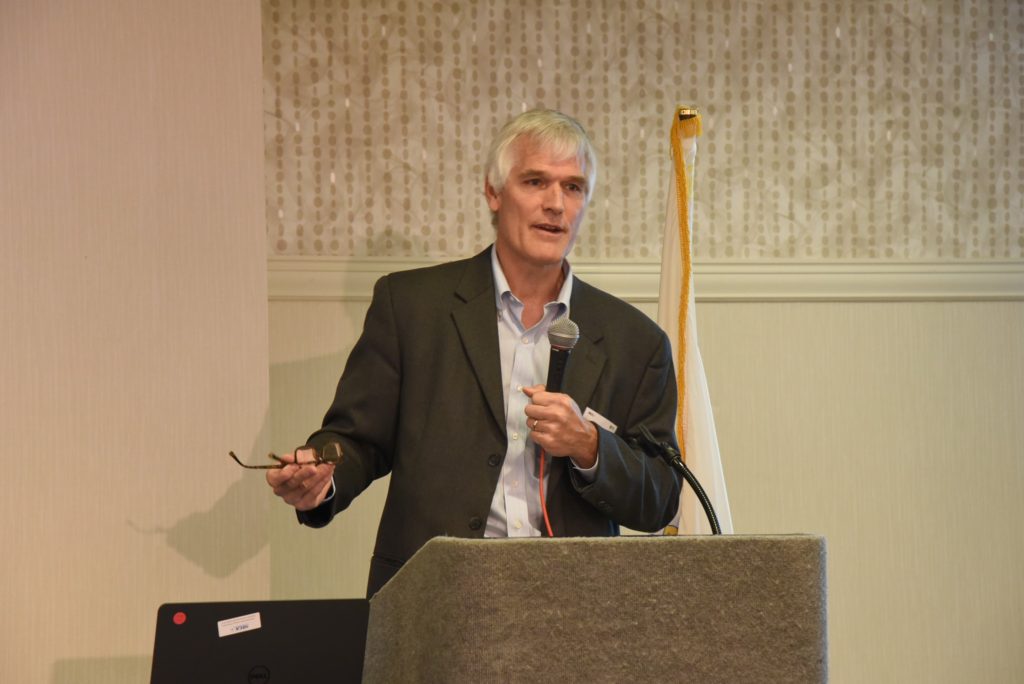 WRAP UP:
Peter Kelly-Detwiler, a Principal at Northbridge Energy Partners, LLC, delivered Tuesday morning's keynote presentation from a "futurist" perspective. In the future, he said, we will be managing the power system in new and different ways, all infused with technology. Walking the audience through how predictions on energy changes have been imprecise, Mr. Kelly-Detwiler identified the unprecedented pace of technological surprises as the cause, and that this speedy shifting of dynamics shows no signs of letting up. As a result, optionality in future technological and regulatory changes is crucial for energy investments, ensuring flexibility in response to now unknown future market indicators. The morning keynote followed a breakfast sponsored by Columbia Gas.
---
PROGRAM BLURB:
"Given the astonishing pace of transformation we have seen in just the last decade, forecasting out to 2050 represents a formidable task and we are sure to be wrong in our projections.  But what we can do is to identify and understand the underlying dynamics that are driving this change. This will help us to better recognize and prepare for the implications of this profound evolution that awaits us." 
– Peter Kelly-Detwiler, Principal, Northbridge Energy Partners, LLC
Introduction by: Sheila Doiron, Director Communications and Community Relations, Columbia Gas
Keynote: Peter Kelly-Detwiler, Principal, Northbridge Energy Partners, LLC
Peter Kelly-Detwiler has over 25 years of experience in the area of electric energy, retail power, and distributed energy assets. Mr. Kelly-Detwiler offers expertise in the areas of new technologies and the integration and interaction of on-site distributed assets with electricity markets. He is professionally active on a national level with energy companies, demand response providers, software developers, datacenter owners, and various energy start-ups. 
Mr. Kelly-Detwiler has written comprehensive research papers for clients on diverse topics such as the evolution of the solar industry and the relationship between data centers and global power markets. He is a frequent moderator and speaker at industry events and offers professional workshops on the topic ranging from 3-12 hours. He also contributes regularly to Forbes.com and other publications focusing on topics related to disruptive innovation and the impact on the electricity industry. 
He is currently writing a book on that topic.